Meet our bi-weekly volunteers who have demonstrated hard work in their respective Committees!
📌 MARIAMA JAMMEH from our Mental Health Committee shares:
"Hi, I'm Mariama and I'm a member of the VOIS mental health committee. I was inspired to join VOIS when I attended their capacity building workshop back in February of 2020. The whole scene just felt communal and authentic and I felt I was surrounded by people who were really passionate about making change in their communities. The Mental Health Committee really resonated with me because growing up in The Gambia, mental health was never really discussed. Being a part of VOIS has really surpassed my expectations. I've met amazing people, learnt so much about various topics and it feels so fulfilling to be apart of an organisation that has helped so many people."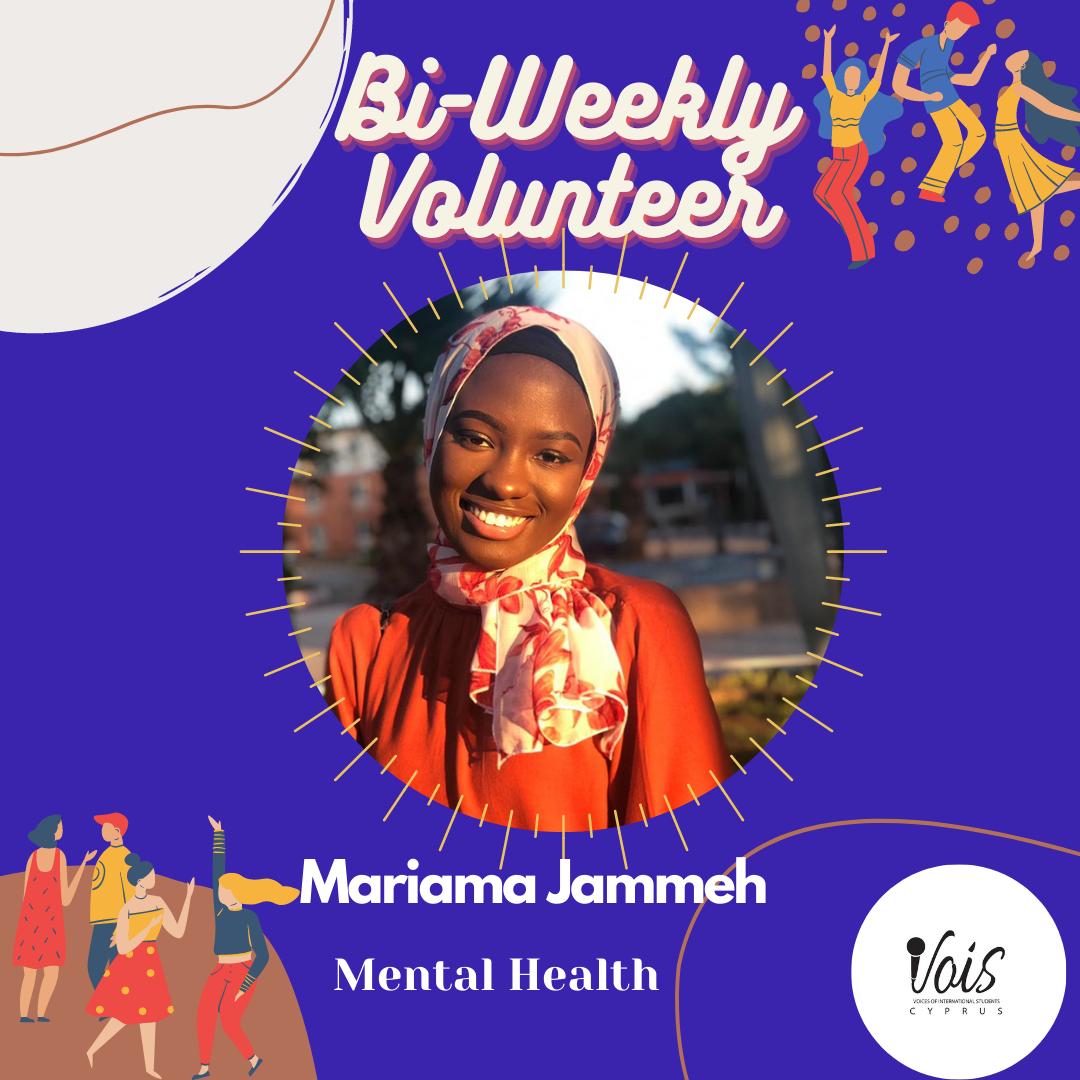 📌 BLERTA TOTAJ, from the Institutional Discrimination Committee shares:
"I joined VOIS Cyprus to do my part in helping international students. It has been a pleasure working with a team that are professional who make work easy and fun."
📌SOUHA MAHFOUDHI from our Gender Related Issues Committee says:
"For me VOIS is like a family where we all support each other and work together to give a voice to students. As I see it, being a part of VOIS is essential for your university experience. I believe that the best is yet to come for VOIS and I can't wait to be part of it."
📌 MOHAMMED BAYOUMY from our Working Conditions Committee says:
"They didn't let me be completely immature so I ended up having to write this. Apparently just saying "Onga Bonga, I see Racism I bonk", wasn't enough. So to make it longer I am talking about it. You thought you could make me be mature by having to write a semi-paragraph. HA! Think again! I am the guy to write "did not" instead of "didn't" and "could not" instead of "couldn't", just to increase the number of words I have to submit in my English essay!!"
📌 NWOKORIE NNAMDI from our Housing Issues Committee shares:
"VOIS is a great platform because being able to profer solutions, create awareness, meet like minds, and practice my imaginary lawyer skills 😅 is amazing. Thanks VOIS Cyprus."
HumansofVOIS
SpeakUp